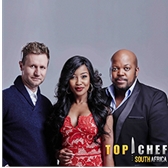 Top Chef to Launch in South Africa on SABC3
NBCUniversal International Formats today announces the launch of its successful reality cooking completion show, Top Chef, in South Africa. The local version will be broadcast by SABC3 and produced by Urban Brew Studios who have bought the Top Chef format rights in South Africa. The 13 episodes will start airing from 12 July 2016.
Top Chef is an unscripted show, which sees a number of chefs compete against each other in a number of culinary challenges to escape elimination and win the title. The Emmy award-winning series first aired on Bravo in the US in 2006 and now spans 21 territories including France, Spain, Poland, Mexico, the Middle East and Vietnam.
Top Chef has performed tremendously across the world. In France, season seven has just drawn to a close with record ratings; Spain's three seasons have attracted peak audiences of over four million and in Poland, production is just beginning on season seven. With culinary shows becoming increasingly popular in the territory, SABC3 is hopeful that Top Chef will become a returning brand for the network.
Yvonne Pilkington, SVP, Format Sales & Production, NBCUniversal International Formats comments: "Top Chef has gone from strength-to-strength in the past year. The international appetite for the show is incredible and we are so pleased to be adding South Africa to our slate. With other cooking shows performing well in the territory, we're confident there will be a genuine passion for the show."
Trish Taylor, Urban Brew Studios CEO adds: "We're proud to be producing a local version of hugely successful international reality TV series and audiences can expect the same top quality production as the original show."
Aisha Mohamed, Head of Bouquet: SABC 3 says: "SABC 3 is excited to bring Top Chef South Africa to our local audiences; a first to market brand new offering to compliment SABC 3's revised prime time schedule. The show provides a fast paced and very real look inside a professional kitchen and what it takes to be a Top Chef which is a strong compliment to the high production value of the show."