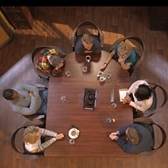 Channel 4 commissions a new hybrid reality-quiz format
Channel 4 Entertainment has commissioned a new hybrid reality-quiz format for daytime - The Question Jury. The 20x60' series, which will be produced by Monkey, will air daily over four weeks and could see contestants walk away £10,000 richer every day.
Seven strangers are brought together and locked in a jury room. They must work together to answer questions correctly and accumulate as much money as possible BUT, only one of them will get the chance to leave the room at the end of the show with that day's total prize fund.
The members of The Question Jury will have no help or interaction with anyone else, only each other's knowledge and gut instincts to rely on. They'll each have the chance of winning up to ten thousand pounds, BUT like a courtroom jury, their answers must be agreed unanimously.
A different foreman of the jury will lead each of the question discussions before submitting a verdict. In each instance, if the foreman can lead the group to an agreed, unanimous answer, they will bank the prize money on offer.
When they reach the final question, they must decide which of them has earned the right to be The Final Foreman and play for the accumulated cash. If the nominated jury member gets the answer right, they could leave with up to £10,000. Get it wrong, they leave empty handed and the rest of the jury will try again with a new member joining them the following day. Each new week starts with a fresh cast of seven starting jurors.
The Question Jury was ordered from Monkey by Channel 4's Entertainment Commissioning Editor, Syeda Irtizaali and Head of Comedy Entertainment, Ben Caudell. The series will be produced in Manchester and the Executive Producers are Will Macdonald and Ollie Brack for Monkey.
Will Macdonald, Creative Director at Monkey comments: "We love this show. It's such a simple idea, but very different, mixing drama and great reality with a thoroughly play-along quiz, like 12 Angry Men had a baby with Mastermind. The look and feel of it really draws you in as you watch strangers wrestle over questions whilst at the same time trying to become king or queen of the room and not get stuck in there a whole week."
Syeda Irtizaali, Commissioning Editor, Entertainment at Channel 4 adds: "This is one of the most compelling formats I've ever commissioned. Watching seven strangers size each other up to play a quiz, mixed with the reality dynamic across each week as they get to know each other, creates a really gripping series full of drama. It feels really unique and different to anything else out there and I hope viewers will love it as much as we do. "