NBC's 'Hollywood Game Night' Scores Local Remake In Russia Via CTC Media
02/05/19
Press release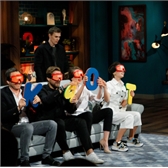 NBC entertainment format Hollywood Game Night is heading to Russia after broadcaster CTC Media ordered a local version of the show.
M.I.R., the Russian production company run by The Eurovision Song Contestproducer Andrei Boltenko, is to produce a 12-part run, known as Celebrity Game Night, to air later this autumn.
The deal marks the 21st international version of the format, which was originally created by actor/producer Sean Hayes, producer Todd Milliner and Mission Control Media and is in its sixth season in the U.S. with host Jane Lynch.
For more, see the full article here: https://deadline.com/2019/05/nbc-hollywood-game-night-russia-1202605988/